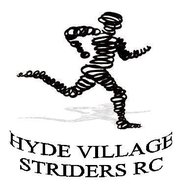 Entry for our iconic 10k trail race 'The Millbrook Moster' is now open. 20th July 2022 7:30pm
Click here to enter through Nifty Entries
Hyde Village Striders Running Club
We are based at Astley Sports Village, Yew Tree Lane, Dukinfield, Greater Manchester SK16 5BL (map). Although some of our members are also members of the Astley Sports Village you do not have to be a member to join us.
We are an inclusive and friendly running club, open to anybody over the age of 18 and interested in running. If you are already running and are interested in the club why not join us for a few runs? For more information please see New Runners and Guests below.
Membership is currently £23 per year and includes England Athletics affiliation so you get a discount on many race entry fees.
Stride Out for Beginners - free course
The next course will start in September 2022, dates to be confirmed
For more info please see the Stride Out page.
We are registered as an England Athletics RunTogether Group. To see our group page on RunTogether click their logo below.

Training
Formal training sessions are Monday and Wednesday evenings, meeting in Astley Sports Village (in the large hall at the end of the corridor to the right) at about 18:15 to leave at 18:30. We usually have five running groups which offers a wide range of distances and paces. In addition, members regularly meet informally to run, cycle and swim at other times.
Meeting Place
Please come in the main reception entrance to Astley Sports Village and follow the corridor round to the right. We meet in the dining hall at the end of the corridor.
New Runners & Guests
New runners and guests are always welcome to come along and run with us. Please see our New Runners page for full details.
Races
Some of our members take part in running races up to marathon distance and beyond. A lot of members also compete in triathlons up to iron distance. The club organises the Stride Through the Woods 5k usually held in April and the Millbrook Monster 10k usually held in July.