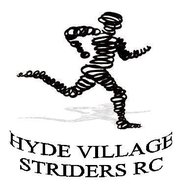 We meet at Astley Sports Village, Yew Tree Lane, Dukinfield SK16 5BL
As a consequence of our continued expansion we unfortunately outgrew the facilities at the Village Hotel Hyde. We are very grateful for all the support the Village have given us over the twelve years they have kindly hosted our training sessions and we are pleased that we are parting on good terms.
Hyde Village Striders Running Club
We are based at Astley Sports Village, Yew Tree Lane, Dukinfield, Greater Manchester SK16 5BL (map). Although some of our members are also members of the Astley Sports Village you do not have to be a member to join us.
We are an inclusive running club and are open to anybody over the age of 18 and interested in running. If you are already running and are interested in the club why not join us for a few runs? Just come down to the Astley Sports Village on a training evening and ask anybody in running gear to guide you to one of the coaches. They will ensure you are introduced to the most suitable group for you. Try us out for a few runs and then, if you enjoy the experience, you can join the club. Membership is currently £20 per year (from 1st April) and includes England Athletics affiliation so you get a discount on many race entry fees.
Stride Out for Beginners - free course
The next course will start in the new year. Please see the Stride Out page for full details.
We are registered as a Run England Group. To find out more about Run England click their logo below.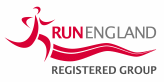 Training
Formal training sessions are Monday and Wednesday evenings, meeting in Astley Sports Village (in the large hall at the end of the corridor to the right) at about 18:15 to leave at 18:30. We usually have five running groups which offers a wide range of distances and paces. In addition, members regularly meet informally to run, cycle and swim at other times.
Races
Members take part in running races up to marathon distance and beyond. A lot of members also compete in triathlons up to iron distance. The club organises the Stride Through the Woods 5k multi-terrain race in April and the Millbrook Monster 10k and Junior Monster 4k on Wednesday 27th July 2016.