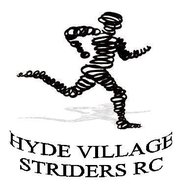 Hyde Village Striders Running Club
We are based at the Village Hotel, Hyde in Tameside, Greater Manchester (map). Although many of our members are also members of the Village Health and Fitness Club you do not have to be a member to join us.
We are an inclusive running club and are open to anybody over the age of 18 and interested in running. If you are already running and are interested in the club why not join us for a few runs? Just come down to the Village on a training evening and ask anybody in running gear to guide you to one of the coaches. They will ensure you are introduced to the most suitable group for you. Try us out for a few runs and then, if you enjoy the experience you can join the club. Membership is currently £15 per year and includes England Athletics affiliation so you get a discount on many race entry fees.
Stride Out for Beginners - free course starting Mon 8th September
Our free, eleven week Stride Out programme for adults wanting to get more active is organised two or three times per year to help people take their first steps into running.
The next course starts on Monday 8th September and will last for 11 weeks. Please see the link above for full details.
We are registered as a Run England Group. To find out more about Run England click their logo below.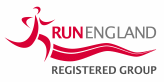 Training
Formal training sessions are Monday and Wednesday evenings, meeting in the Village Hotel entrance near reception at about 18:15 to leave at 18:30. We usually have five running groups which offers a wide range of distances and paces. In addition, members regularly meet informally to run, cycle and swim at other times.
Races
Members take part in running races up to marathon distance and some also compete in triathlons up to iron distance. The club organises the Stride Through the Woods 5k multi-terrain race in April (Wednesday 23rd for 2014) and has taken over the organisation of the Millbrook Monster 10k and Junior Monster 4k from Kiwi Classic Events. In 2014 it will be held on Wednesday 30th July.