The membership year runs from April 1st to March 31st.
Fees are £22 per year. Of the £22 membership fee £15 goes to England Athletics, 77p is taken by the card payment processor and £6.23p goes to the club.
Renewing members will be emailed a link to pay their fees online. Please ensure your details are correct - make changes via the England Athletics myAthletics portal.
New members will need to complete a membership form (see links below) and will then be sent an email with a link to pay their fees.
At the AGM on 6/03/2018 it was decided to raise the annual membership fee at £22 (we had abosrbed the previous year's £1 rise in fees paid to England Athletics). The club raises other funds from providing marshals for the Manchester Marathon and Half as well as organising our two annual races. Those incomes help a great deal to keep our memberhsip fees low so do please help out if you can.
Membership form
The membership application form is available online.
Keeping your details up to date
If you change your details during the membership year please update them via the England Athletics myAthletics portal.
Joining
To join the club please complete the membership form.  Once your membership has been processed you will be sent an email with a link to pay your fees. If you do not receive the email please get in touch with the Membership Secretary who will be able to resend it.
When you join your details will be passed on to England Athletics who will post you a Competition Licence card. The card can be used to prove your entitlement to discount at Sweatshop and other retailers. Your Unique Runner Number (URN) is printed on the card, many race organisers ask you to fill in on their entry forms. Your URN stays the same when you renew your membership.
EA cards are printed only once a month so could take up to two months to arrive after joining the club. If your card has not arrived after two months please let the Membership Secretary know and they will chase it up.
Additional Benefits
Run North West running shop Market Street, Hyde - offers 15% discount to members on non sale items
Up & Running (Oldham and Manchester) off 10% discount for non-sale items
A £2 discount of many running races (under UKA or associated organisation permits are obliged to offer a £2 discount to members)
Other benefits are listed on the England Athletics website.
Questions
If you have any questions about applying for or the status of your membership please contact the Membership Secretary via our contact form. Select Membership Enquiries in the Category box before submitting the form.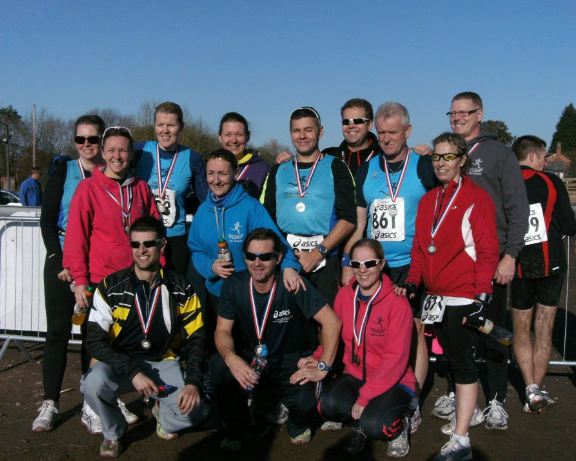 Striders sporting their medals at the Cheshire Duathlon 2011