Millbrook Monster multi-terrain 10k
& Junior Monster 4k (ages 9-14)
Wednesday 24th July 2019 19:30
2019 Event
A big thnak you to all who came on the day to voluteer, run or support. Special thanks to Stalybridge Estate, Stayly Cricket Club and the Millbrook Chippy for their continued support.
Millbrook Monster 10k results: Excel
Contact details: info@hydevillagestriders.org.uk Adge Barker: 07711 665525
Parking - very important, please comply
We have had complaints about inconsiderate parking from residents of Millbrook please do not add to them!
There are unadopted roads near the cricket club and to minimise disruption to the residents we are asking that you to please do not park on them. They are:
Oxford Street
Stamford Road
Cross Street
Grenville Street (west of Huddersfield Road)
Victoria Street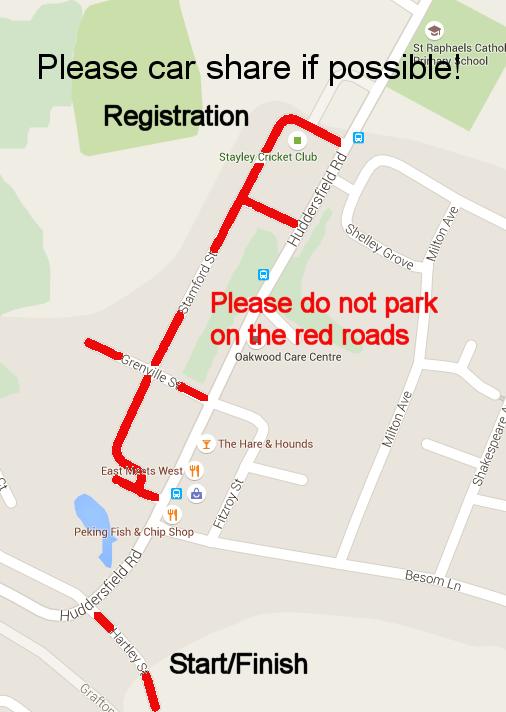 Millbrook Monster 10k and Junior Monster 4k information
A very popular running race starting in Stalybridge Country Park before heading up into the wild above Millbrook. The route crosses the Walkerwood Reservoir dam before a steady climb following the Pennine Bridleway round the western flank of Harridge Pike. If you have the energy to look you to your left you will be rewarded with a great view of Manchester and the Cheshire plain in the distance. Soon the route climbs up on to the moor behind Harridge Pike to it's highest point (370m above sea level) just past the 4km mark from where, on a clear day, you look ahead to two giants of the Peak District, Bleaklow and Kinder Scout before descending to Higher Swineshaw Reservoir and rejoining the reservoir road. The road gives you a very fast descent off the hill passing all four reservoirs nestling in the mixed woodland of the Brushes Valley. Shortly afterwards the route reaches it's conclusion with a loop of Stalybridge Country Park to finish back where it started.
Entry fee includes a free chip muffin when you hand your race number in at the local chippy!
The Junior Monster 4k for 9-14 year old runners is set of shortly after the main race. Junior Monster entry is on the day only and costs £2 which includes a chip muffin like the senior race!
Event information
Minimum age: 15 years on the day Junior Monster 4k: 9 to 14 years on the day.
Venue: Stayley Cricket Club have once again kindly allowed us to use their clubhouse on Oxford St, Millbrook, Stalybridge, Cheshire, SK15 3JJ
Registration: Race number to be collected on the day. Registration opens 18:00 & closes 19:00.
Facilities: Refreshments, Toilets, Changing Facilities, Limited Parking. Free chip butty with entry fee
Parking: Please park responsibly. Please do not park on the unadopted roads near the venue - Oxford St & Stamford Rd. Oak Gates and Besom Lane car parks not to be used.
Prizes: First three Men & Women and Vet Categories, FV35 to V65+. 1st Team Prize. Prizes for all juniors.
Entry Details: Affiliated £8, unaffiliated £10. (£2 extra on the day, cash only) Race limit 250. Junior Monster entry is £2 for UKA and £4 for others.
2018 Results
Thank you to all who came out, ran, volunteered or supported a great night of running.
Junior Monster 4k results: PDF Excel
Millbrook Monster 10k final results: PDF Excel
2017 Results
A big thank you to all who came out and ran, supported or helped out!
Final results for the Senior race: Excel PDF
Final results for the Junior race: Excel PDF
Event Photos 2017
It seems there were quite a few photographers out on the course. Here are links to their albums:
Our own Harry Barclay https://www.facebook.com/pg/Harrybarclayphotography/photos/?tab=album&al...
Tony Jones flickr
Pete Nicholson flickr
Anthony Naulty APN Sports Photography
Thank you for taking and sharing them guys.
This year we are only taking online entries via Nifty. This has a small booking fee but allows entrants to edit their details if required and transfer their entry to another runner should they be unable to make it.
Entry
Entry in advance is £6 for UKA registered runners, £8 for others and closes at midnight on Monday 27th. You can enter the 10k online via the following sites or download the entry form and post it to us. If the race does not fill we will take entries on the day but it will be £2 extra and cash only.
The Junior Monster entry is £2 for UKA and £4 for others.
Numbers are transferable as long as the person registered informs us of the new person's name and the new person sends us the information on the entry from by the end of Tue 25 July at the latest.
If the original entry was an affliated entry and the new person is not affliated there will be £2 to pay when transferring or on the night when collecting the number.
Race Route
Millbrook Monster 10k or on Bing maps where you can select Ordnance Survey as the map type
There is also a time lapse tour on YouTube
Past Results
2016 Senior PDF Excel Junior Monster 4k results PDF 2016 race photos, courtesy of Harry Barclay, are on facebook
2015 Senior and Junior results are both included in a single file  excel pdf
2014 Millbrook Monster 10k pdf excel  Junior Monster 4k pdf excel
Supporting organisations
We'd like to thank the following for their support, without which we wouldn't be able to oragnise the race.
Enville Estate - the landowners
Tameside Coutryside Service - for use of the Country Park
Stayley Cricket Club - for hosting the registration, prize giving,  use of the changing facilities and promoting the race
A&E Life Support - for medical support
Millbrook Fish and Chip Shop - for post-race catering
Race Report 2015
Thank you all for coming along to run, support or help with the race. Most of the runners, supporters and helpers seemed to have a great time. The turnout for the senior race was the best we have ever seen and the junior race was more than double the previous largest turnout!
We acknowledge that we had some problems with runners being unsure of the route in a couple of places and some going the wrong way as a consequence. We have taken steps to ensure that we mark the course better and have more marshals out on the course, especially in the country park where the problems were. Once again the chip muffins seemed to go down a storm with an event best of 223 provided this year!
Thank you once again for coming to the Monster and a big thank you to the land owners, the council, Stayley Cricket Club, Sweatshop Hyde and finally the Millbrook Chippy for all the support.
Hopefully we'll see you all again next year!
2015 Results
Senior and Junior results are both included in a single file  Excel PDF
2014 Race Report
What a fantastic turnout we had last night, the largest field ever in Monster history. Thank you to all the runners, supporters, helpers and the organisations that helped make the race a huge success. We had a limit of 250 and hit that exactly so we filled but didn't have to turn anybody away!
Andi Jones had a storming run and beat his own course record by 44 seconds!
There was an issue with one of the signs and some tape in the country park being interfered with around the 9km mark which unfortunately meant some of the runners went the wrong way. We sent somebody to fix it as soon as we were made aware of it by the race winner. For the next event we will have a marshal at that location to ensure all go the correct way.
2014 Results
Millbrook Monster 10k pdf excel
If you have any queries about the reults or corrections please email monster@hydevillagestriders.org.uk
2014 Photos
Courtesy of Hyde Striders' own Harry Barclay
2013 report and results
Despite a bit of rain on the day the 2013 race went well and lots of positve feedback was received. We'd like to say a big thank you to all the people who helped by volunteering, marshalling the supporters and of course the runners!
Millbrook Monster 10k and Junior Monster 4k results 2013 (excel)
Millbrook Monster 10k and Junior Monster 4k results 2013 (pdf)