The current Stride Out Course started on Monday the 8th of May 2017 and runs for 11 weeks
This course is now full, as is the wait list. If you wish to be emailed when the next course is announced please contact us.
Can't make it or don't want to wait for the next course?
If you can't make Monday and Wednesday evenings or want to get started before the next course then the NHS Couch to 5k programme is an excellent resource. Full information is on their website. If you can find a friend to share it with that will make the exprerience much more enjoyable.
Once you have got yourself to 5k then you should be able to join one of our regular running groups.
Local 5k parkruns can help you get fit too
There are also a number of free, 5k parkruns in the area which are held in parks at 9:00am every Saturday. You can walk, jog, run or any combination so they are a great way to get fit! Our nearest one is Hyde Park but there is also on in Stamford Park and several others not far away.
General Information
Two or three times a year the club organises a free adult beginners course known as Stride Out. The course is aimed at complete beginners, those returning to running after a break or those who are fit from other activities but want to get in to running. It lasts 11 weeks and there is a session every Monday and Wednesday evening starting at 18:30 which takes participants from doing no running, to running for 30 minutes. Experienced coaches are on hand at all times to guide participants through the course and to help with any problems.
The Stride Out course is
based at Astley Sports Village, Yew Tree Lane, Dukinfiled SK16 5BL (map). We meet in the dining hall at the far end of the corridor to the right.
free
open to all adults - not just members of Astley Sports Village
a great way to get started on the road to fitness with the support and encouragement of our qualified coaches and their helpers
All you need to start the course is comfortable exercise clothes and a comfortable pair of running shoes. Please beware that we run in all weathers, except when it is icy, so please dress approriately for the weather!
Due to having been innundated at the start of the last few courses we have had to restrict numbers to a maximum of 25 people for this course.
In order to make it fair we have introduced online booking for the course via England Athletics' Run Together website starting at 18:00 on Friday 6th January 2017. The course is still free but you must now book in advance. People will no longer be able to register on the first day of the course..
Resources
Parking
Please park at Cromwell School, adjacent to Astley (the car park is through the first gate on the right coming up Yew tree Lane, just after the first speed bump) and then walk the short distance to Astley so that the members of Astley Sports Village don't have trouble parking. If the gate for Cromwell is closed please come in via the third gate and go left to park at the rear of the building. There is a rear door that takes you to the corridor.
If you have any questions about the Stride Out course then please contact us.
Your first session
For your first session please come for 18:10 so we can welcome you before the start of the session.
If you can't make the first session you may still be able join the course later, please email us if that's the case.
Run England
Our Stride Out course is registered as a Run England Group. To find out more about Run England click their logo below.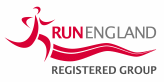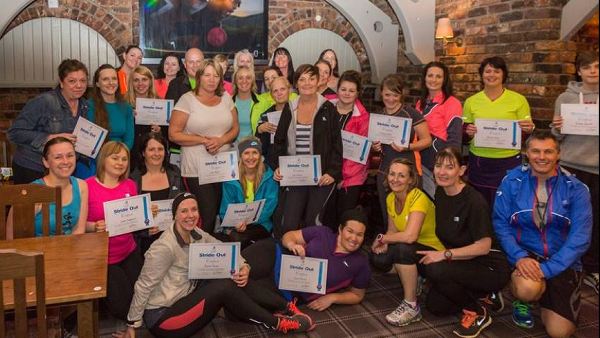 The spring 2014 Stride Out graduates.