Just write a few things about yourself they said. Mmm, not as easy as it sounds when you sit down to do it, but here goes!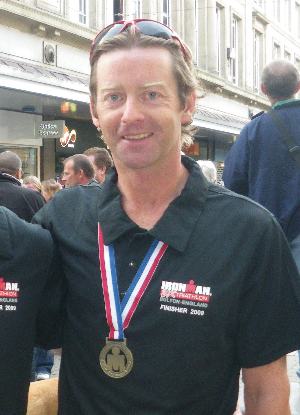 As far as running goes I've run for as long as I can remember, let's just say 30 plus years. I think that comes from a dislike of walking, I've always wanted to get where I'm going as quickly as possible!  Over the years I have experience of running all distances from  5K's all the way up to Marathons and in recent years I have ventured into the world of Triathlon completing events from Sprint Triathlons up to Ironman distance.
Some of my most satisfying moments however, have come since I became involved in coaching. I have always been passionate about running and the benefits it can bring and as a coach I have the perfect opportunity to speak to people, encourage and try to pass on my passion for running.
To me running is the purest form of exercise. It's just your body, your mind and the distance you want to conquer. It's up to you how hard you push yourself, nobody can do it for you, if you want to reach that target time or distance it's down to you!!
The knock on benefits from running and fitness are sometimes overlooked too. When someone starts to see themselves achieving things they didn't think possible in their running it gives them great confidence to push further and try new things to see what else is possible. This can then rub off in their work and social life, they suddenly have more confidence and self esteem and feel more able to tackle everyday problems.
We have run numerous beginners classes at Hyde Village now and it still gives me a thrill seeing people come through from novices who struggle to run 100 metres to completing their first 5K. We have had plenty who have gone on to do 10K, Half Marathon and even Full Marathons. To see one of our runners crossing the finish line and achieve their own personal goal is one of the best feelings you can get and on many occasions, very emotional!
Of the best thing about running is that it's never too late to start. If you are in good health, your physical fitness need not be a barrier to achieving your goals. If you're healthy we can improve your fitness. If you have always dreamed of running a 10K or even a marathon. Go for it!! You don't want to look back in 5 years and wish you'd tried, do it now! Take the first steps and come and speak to any of the coaching team at Hyde Striders. We will give you sensible advice and support and most importantly encouragement!!
Happy Running
Mike